Jaipur Night Tour with Chokhi Dhani
Chokhi Dhani tour has a maximum duration of 5 hours, and details are:
Tour Fare
Rs.900 for Sedan Cab
Ra.1200 for Innova Cab
Rs.2200 for 9-12 seater Tempo Traveller
Note: Above fare is per car fare, not per person.
Tour Details
We will pick up from your hotel or any other place in Jaipur, and you will have to be ready by 6 pm.
First you will visit Birla Temple & Albert Hall Museum.
Then, we will move onwards to Chokhi Dhani by 7-8 pm.
You will enjoy Chokhi Dhani till 11 pm.
And by nighttime, we will drop you back to your hotel in Jaipur.
Note:
Tour to Chokhi Dhani is an evening tour that starts after 6 pm.
Chokhi Dhani entry fees are Rs 750 per person & Rs 450 for kids, which also include buffet dinner.
Inside Chokhi Dhani, you will enjoy elephant, camel, horse, bullock & boat ride, musical dance shows & much, much more.
More details on Chokhi Dhani are available at http://www.chokhidhani.com/village/
To book your tour to Chokhi Dhani, call me (Mr Singh) at 9928399846 or fill the form below. And do check all of our Top 10 Jaipur Night Tour.
Sites you will visit on this tour
1. Chokhi Dhani, Jaipur
Chokhi Dhani is a 5-star luxury resort in Jaipur where a typical Rajasthani village setting is recreated to give a rustic feeling to visitors. You get to stay in rooms and suites that have haveli-style decor. There are activities for guests that let them experience the culture and traditions of Rajasthani villages. Multi-cuisine restaurants eith exceptional cuisines, shopping, spa, kids zone, museum, camel and bullock cart rides, and many other attractions are the hallmark of Chokhi Dhani.
Entry timings of Chokhi Dhani
Entry fees of Chokhi Dhani
Adults – Rs.700 to Rs.1100
Kids – Rs.400 to Rs.700
2. Birla Temple (Jaipur)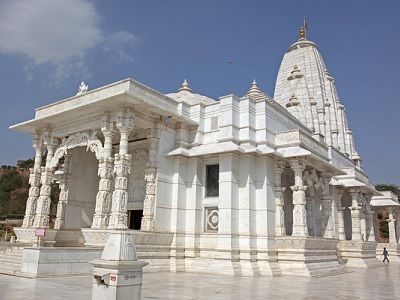 Birla Temple of Jaipur is a marvelous Hindu temple made of pure marble. Inside there are intricately carved idols of Hindu gods, quotes and symbols etched on the walls and images of saints and philosophers from other religions.
3. Albert Hall Museum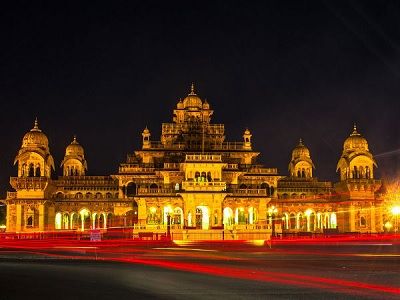 Albert Hall Museum has galleries of metal art, pottery, sculptures and statues, arms and ammunition, miniature paintings, jewelry, and many other exhibits. It's awesome architecture and surrounding greenery of gardens is a treat to watch.
4. Jawahar Circle Garden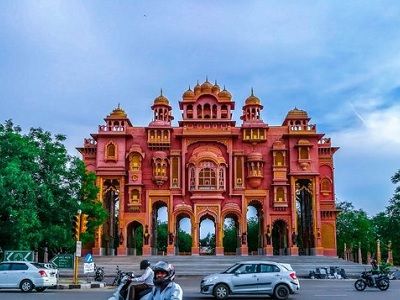 Jawahar Circle is Asia's largest circular park, and a popular tourist attraction in Jaipur. It has a rose garden, concentric jogging tracks, musical fountain, children's play area, kiosks, which attract locals and tourists to come here and relex in the lush greenery.