Jaipur Night Tour with Rambagh Palace dinner
The main thing in this tour is a dinner at Taj Rambagh Palace, a 5-star luxury hotel in Jaipur.
Tour Fare
Sedan car: Rs.900
Innova cab: Rs.1200
Tempo Traveller: Rs.2200
The rates above are per car fare, not per person fare.
Tour Details:
Pickup from your hotel at 6 pm
You will tour Albert Hall and Birla Temple till 7.30 pm
At 8 pm, you will arrive at Taj Rambagh Palace.
Then, a royal dinner at fine dining restaurants in the palace.
At 11 pm, we will drop you back to your hotel.
Note:
We will charge you only for taxi and driver in this tour.
Expenses like restaurant bill has to be paid by the guests at the restaurant.
You can book this tour by calling us at +91 9928399846, or filling the form on this page.
View more of our Top Jaipur Night Tours.
Tourist sites you will visit on this tour are
1. Taj Rambagh Palace
Dining at Taj Rambagh Palace is the hightlight of this tour. Even if you are not staying in this heritage hotel, coming here for dining will make this tour worth booking. Rambagh Palace once was the royal residence of the Maharajas of Jaipur, and today it is converted into a luxury hotel, managed by India's finest luxury hotel chain, Taj Hotels. Inside, there is every luxury that money can buy, be it staying in opulence or indulging in royal hospitality. And, dining is an alltogether a different sort of luxury. Rich aromatic flavors, authentic Indian and International cuisines is there to be tasted in the finest luxury hotels in Jaipur.
2. Albert Hall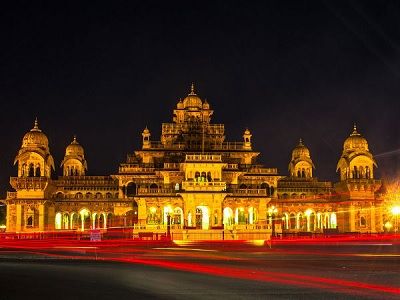 Evenings are the best time to view the lights of Albert Hall, and we have chosen this tourist site precisely for you to view the wonderful architecture of Albert Hall, which will take your breath away with its illuminated structure.
3. Birla Temple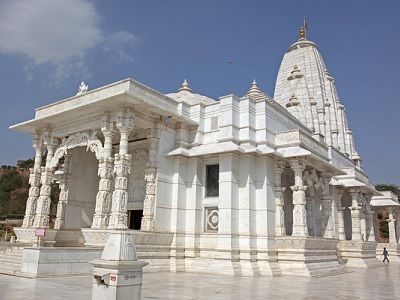 In the evenings, the white structure of Birla Temple looks even more beautiful, and you will not be able to resist the temptation to have a closer look at the elegant carvings on the temple.